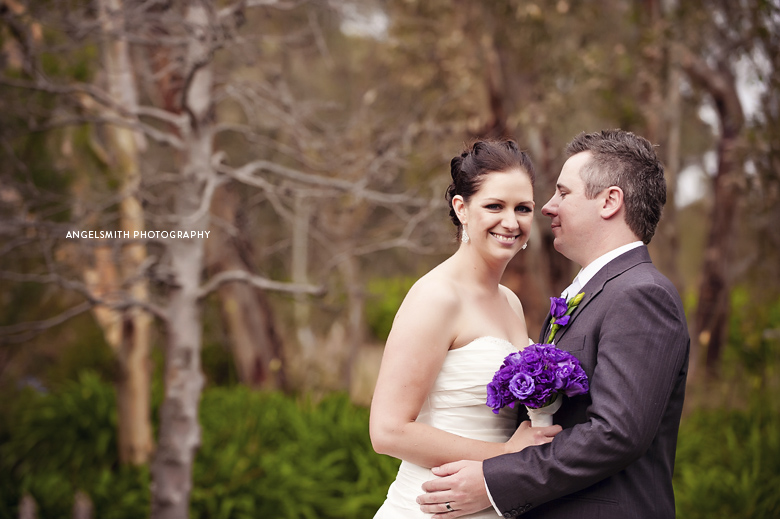 I feel very honoured to have photographed Sam & Ben's wedding day last November. I first met them while photographing Kelly & Alexei's wedding back in September 2008. Sam was Kelly's MC (and my family-photo-rounder-upper!) and Ben was there as a groomsman. A year and a bit later (February 2010), I photographed another wedding – Sam & Sean (confusing yet?) in which Sam (Ben's Sam!) was a bridesmaid. Fast forward to November 2011, and I photographed Sam & Ben's wedding; this time with Sean's Sam, Kelly and Alexei all in the bridal party. Woo hoo!
Arriving at a wedding where you already know a number of people is a great feeling, but even without the prior connections I still would have had a wonderful time. You just have to look at Sam and Ben together and know that they're each other's "yin" and "yang." They've been together for 12 years, and were finally married with the perfect low-key, cocktail-style wedding at The Currant Shed in McLaren Vale.
We had heaps of fun (again, I hope I'm not just speaking for myself here!) and I absolutely loved spending time with the bridal party, who I felt I had known for years (some of whom I had!) I actually don't think the day could have been any more perfect…
Sam and Ben, thank you so very much for having me. It meant so much and I'm absolutely thrilled to have been a part of your day. Congratulations on an amazing journey and amazing day.
P.S. Sam & Sean, thank you for having me at your wedding over two years ago now – and massive thanks to Kelly & Alexei, whose wedding started it all. I'm only sad that we can't do it all again!


(Pegs, you ask? Really? Well, we were doing some very nice family portraits in the garden, and Sam's Dad piped up,
"You're not getting those pegs in the shot, are you?" I shook my head and said, "No…but I am now!" *click click*