Client Testimonials

Talissa & Deonne
We just wanted to say thank you for [the] gorgeous photos of our wedding. You are one incredibly talented lady. From our very first meeting up to the wedding day you made the process so relaxed and FUN! You also made the wedding day so easy. Half the time we didn't even notice you clicking away in the background. You captured so many great moments that we will cherish forever. We couldn't have asked for anymore better, we can't thank you enough!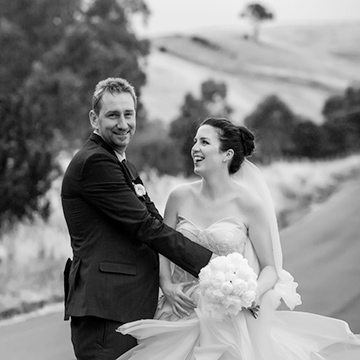 Camille & Daniel
Oh where to begin? A simple "thank you" seems vastly inadequate given the wonderful, beautiful and everlasting images you so skilfully and stunningly captured for us on our wedding day. Perhaps "bless you" would be more appropriate…You were such a wonderful part of our day and we feel incredibly spoilt that you were our photographer. May you continue sharing your talent with the world for years to come.
Karen & Stephen
[We would like to] tell you how proud of ourselves we are to have worked with such a talented photographer who produced such beautiful shots of our special day! Really can't thank you enough; each and every one is a treasure.
Creenagh & Niall
Thank you so much for making our wedding day so perfect and for taking such divine photographs! Your talent is absolutely beyond words, and you are one of the loveliest, sweetest people I have ever met. You are amazing.
Anna-Lee & Tom
Karalee, you are an amazing photographer. I can't praise you enough! Did I mention that we love you???! We planned our whole wedding around when you were free after we fell in love with your work. After meeting you we were convinced it had to be you. You were fantastic on the day and SO helpful. Anyone looking for a photographer would be mad not to beg you to do their wedding. Thanks from the bottom of our hearts.
Deeon & Chris
Thank you so much for capturing our day. We couldn't have wished for a better person. You are truly amazing! It has been wonderful getting to know you.
Zoe & Chris
We can't thank you enough for everything you have done for us. Our wedding album is beautiful and beyond our expectations! The thought that has gone into every single piece is greatly appreciated. We will treasure our magnificent photos forever as we relive the day each time we look at them. You have been an absolute pleasure to work with and thank you for being a part of our special day.
Charina & Darren
We would just like to say thank you again for the wonderful work you did for our wedding. We enjoyed working with you throughout the whole process and the final product was incredible. We absolutely loved our album and print and so has all our family and friends! The photographs were absolutely beautiful and testament to the amazing work that you do. We really cannot say thank you enough!
Julia & Scott
What an amazing day and awesome job you did capturing our wedding day. We have the most beautiful memories of that day and your professionalism and easy nature made it an absolute breeze to work with you. Thank you again, top job!
Kirsty & Evan
We cannot thank you enough for capturing such special moments on our wedding day. You did a beautiful job and were a pleasure to work with.
Katie & Stuart
Thank you so much for photographing our wedding! You were so lovely and helpful throughout the whole process, and we love our photos so much! The same wide grins and happy tears that we shared on our wedding day come back again every time we look at them. You really are amazing and we loved having you as part of our day.
Melanie & Todd
Thank you for being such a big part of our wedding and capturing our day with such beautiful photos. We're so grateful you were happy to work with us and we love looking at our photos!
Deeon & Chris
Thank you so much for capturing our day. We couldn't have wished for a better person. You are truly amazing! It has been wonderful to get to know you.
Alinta & Chad
Thank you so much for capturing our wedding day and creating lasting memories for us to forever look back on. Your professionalism and attention to detail was fantastic and greatly appreciated.
Marissa & Aaron
Thank you so much for documenting our wedding day with such beautiful photos. We had a wonderful day, and are so pleased that we have such beautiful photos to remember it! Thank you!
Lora & Sam
I think I have looked at them fifty times already at least, I'm positively obsessed! Thank you so much for capturing our wedding, the photos are beyond stunning and I couldn't love them any more!
Lucinda & Jarryd
Thank you for our beautiful photos. We are so glad we chose you to be our photographer. We were so set on having you that we picked our date because you were free. It was the best decision we made for our wedding and we will treasure your photos forever.
Angela & Ben
Thank you so much for sharing in our day and providing us with many photos to remember what a beautiful day we had. We especially LOVE the moments you caught when we didn't know you were taking photos.
Zarnah & Chris
Thank you so much for photographing our big day! You did a great job, and so many people have said so many great comments about our photos. You have done such beautiful work! We have put some on our wall now and they are looking grand!
Melanie & Tom
Well…what can I say – you are amazing! Thank you so very much or capturing our special day so beautifully. You are a true talent and definitely have an eye for what you do. You delivered on exactly what we wanted – candid, creative and unique photos. Keep up the awesome work – you will go a long way in your career.
Laura & Jez
Thank you so much for playing such an important role on our wedding day. Your photographs captured the joy, love and special moments of the day, and you are such a lovely person as well! We can't wait to display our pictures in our home.
Janaki & Rohan
Thank you so much for our beautiful photos! We absolutely love them! You don't know how many millions of comments we have got. We feel so lucky that you photographed our 'special day'. It's just a pity we won't be able to do it again!
Elissa & Brad
Thank you so much for our beautiful wedding photos! We couldn't be happier! You captured our day perfectly and we'll be able to look back at our special day with love and happiness thanks to your amazing work!
Lisa & Mick
Karalee, the day would not have been the same without you. Your photos are a magical record of a dream day.
Lyndsey & Julian
Just a short note to say thank you for all the hard work you put in to help make our special day as amazing as it was. Planning an overseas wedding is a difficult task, but you completely reassured me that at least my photography would be perfect – and having just spent ages looking at the sample pictures (about 10 times since you uploaded them last night!), I can definitely say that we made the best decision having you as our photographer.
Alanna & Luke
Thanks so much for your fantastic photography work at our wedding. The proof book and photos we've received are amazing and we can't wait to see the album. We really appreciate all the time and effort you put into our special day and will be recommending you to all our friends!
Amy & Iliya
Thank you for capturing our day and our feelings so perfectly. We're so glad to have found such a wonderful friend!
Tara & Ryan
Hi Karalee, We received our proof book and disc yesterday and they are both wonderful! Ryan and I would like to say a huge thankyou to you for all your work and effort on our wedding day and preparing our images and proof book. The photos were stunning, they captured all the details and emotions of the day which we can now look back on and remember forever.
Sonya (Wedding Planner)
This is a very belated message to say thankyou for all your hard work to make Ben & Kit's wedding day a lovely success. I have had a look at your photographs and they are beautiful – they truly capture the essence of who Ben and Kit are as a couple and as individuals.
Brodie & Richard
Many thanks again for helping to capture our special day and the emotion of the day in such a natural way. When I saw the proofs online for the first time I cried! The pictures brought all the emotion of the day back!
Georgia & Carey
[The photos and proof book] are both everything we could have asked for! Thank you so much for everything you have done to make our wedding experience so beautiful and stress free.
Katarzyna & Simon
Just letting you know that we received the photos yesterday and they're amazing! Thank you so so much for your beautiful work! We love them and cannot wait to show them off to everyone!
Nuy & John
Thank you for being our photographer and producing the beautiful pictures. We've been busy showing everyone the proof book which has come in very handy and everyone loves it from front to back.